Car Accident Attorneys In Panama City, Florida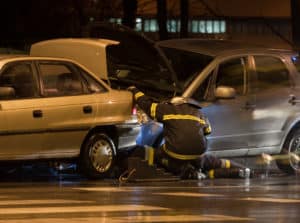 Panama City is a vacation destination for neighboring cities and states which can create some pretty major traffic situations throughout the city. While there is certainly a low season in the area, Panama City welcomes visitors year-round. With nearly 37,000 residents in the metro area, the population grows exponentially with tourism. In fact, 2017 saw 17-million visitors in Panama City Beach.
With all these people coming in and out of the city, it leaves residents vulnerable to car accidents. David Graham Insurance Lawyers, P.A. represents car accident victims in Panama City and helps locals get back in the driver's seat and on the road to recovery.
You might be wondering what a car accident attorney in Panama City does and how they can help you. In this article, we will answer those questions and explain more about how we work with victims to get the recovery and compensation they deserve. Here are the top six legal actions our clients can expect from us. We invite you to read on and take notes so we can start a dialog about your particular case.
What a Panama City Car Accident Attorney Does
At times, we think it might be easier to ask what a car accident attorney "doesn't" do in a claim, as that might actually be a shorter list. We try to build solid cases filled with facts and evidence to show insurers they can't take advantage of our clients. Here is a more in-depth look at the tasks we handle for our clients.
Explain The Law – There are always a lot of questions when it comes to accident cases, and we certainly understand why. We are here to explain your rights, the law and their impact on your case so you have a clear picture of how your case could pan out. We believe when you are armed with the proper legal information, you'll be able to make better decisions regarding your case. We have spent years exercising the laws for victims and help them recover what is appropriate for their damages.
Handle the Legal Paperwork – The amount of paperwork in legal cases is overwhelming for those who don't practice law. What we take for granted and handle every day as a car accident law firm in Panama City, can completely confuse and concern our clients. There are deadlines that have to be met, legal documents that have to be filed and requests that require legal oversight; and we handle it all. We also explain this entire process. We ensure you are always clear about what is being filed or signed so there are no surprises.
Communicate on Your Behalf – When the other driver's insurance company calls you, won't it be great to say, "You'll need to speak with my Panama City car accident lawyer." We can handle almost all of the communication with insurance companies, adjusters, lawyers and then some. We do the negotiating and uncover the ways insurers try to take advantage of you or hurt your credibility. An insurance company may "appear" to want to help you, but make no mistake, they don't work for you. The sad truth is, they work for the insurer and their one goal is to pay as little as possible on your insurance claim.
Legal Guidance During the Whole Process – An unfortunate aspect of the insurance claims process is, car accident litigation can often take months or even years. This is a tactic commonly used by insurers to try and make you cave to an inadequate settlement or to abandon the case altogether. We stand with our clients through the process which we know can be challenging. We offer guidance on what to do or not do, and how to live as peacefully as possible during the process. We will reveal how the insurance company can find details about you to hurt your case, and even work with your insurance company to see if they can support some of your immediate needs while you wait for a settlement.
Collect Evidence – We are the best car accident attorneys in Panama City in finding the right kind of evidence for your specific case. We have resources and experts to help us find unique details to support the facts and get to the truth of what happened. From private investigators to finding witnesses and even obtaining visual elements (such as red light camera footage.) We use all of these tools to help show the insurance company that they cannot skirt their responsibility. We will also advise you on the kind of evidence you can obtain such as medical records and tests, as well as how to build a strong case for yourself using alternative resources. This can mean seeking out therapists to help you recover or even using journals to tell the whole picture of what your life looks like after the accident.
We Go To Court – Most car accident claims are settled out of court but if your case doesn't take that route, we will show up in court for you. We have spent years building quality relationships that will support your case from courthouse personnel, law enforcement professionals, and accident experts. Put all of that together with your testimony and our collection of evidence, and it's a recipe for a winning case. You will not have to stand before a judge by yourself, we will be there with you the whole time.
Hopefully, this gives you insight as to some of the tasks we handle for you as your Panama City car accident attorneys. We know you likely have more questions and we are happy to answer those for you. Give us a call today and let's start a conversation about the specifics of your case. Don't wait too long, as cases become harder to prove with passing time.