Car Accidents Lawyers in Florida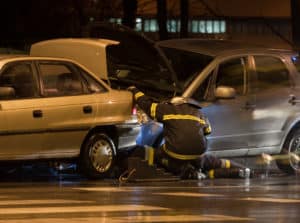 There were an astonishing 400,623 car accidents on Florida roadways in 2018. More than 166,000 of them resulted in injuries and of those, 2,860 resulted in death. When we get up in the morning and get ready for work, none of us believe we will be the victim of a car accident and likely don't take into account all of the dangerous possibilities.
At David Graham Insurance Lawyers, P.A., we believe being prepared is the best way to counteract a bad situation on the road. In this article, we are going to talk about what Florida car accident attorneys do to help you in the legal process, what you should do if you find yourself in a car accident and some top tips of what 'not' to do during your car accident claims process.
What do Florida Car Accident Lawyers do?A Florida car accident attorney can help you maneuver through, the sometimes, complicated legal field of accident law. Your job as a victim to is to concentrate on your healing process, your attorney's job is to focus on your legal case so you have what you need to heal.
Here are just some of the elements we handle for our clients at David Graham Insurance Lawyers, P.A.
Explain Your Rights – All of us know that we have legal rights when we are injured in a car accident, but chances are we aren't too clear about what that really means. Our years working in car accident law in Florida has given us an invaluable set of skills and resources to help clients understand their rights. We will listen to your case and help you decipher Florida state laws and comb through your insurance policy to know exactly what you are or aren't covered for.
Handle Complex Legal Paperwork and Proceedings – Legal paperwork is one of the most overwhelming parts of car accident legal cases, and we handle all of that for you. There are time-sensitive elements that have to be dealt with and a particular chain of paperwork events, that have to be processed to file a car accident lawsuit. Victims run the risk of missing these things because they are already overwhelmed with their medical issues or they simply just don't know the legal system.
Communicate with Insurance Companies on Your Behalf – Insurance companies do their best to work directly with you and avoid working with lawyers, mostly, so they don't have to pay you as much in damages. Some cases will not need legal support, but if there are reasonable injuries or property damages, you should seek a car accident lawyer in Florida. We will work directly with the insurance companies to ensure no mistakes are made that will compromise your case.
Represent You in Court – If a settlement can't be reached outside of court, we will represent you inside the courtroom to get the justice you deserve.
What to Do if You're Ever in a Car Accident in Florida

We hope you never need this information, but it's better to be prepared than not. Car accidents can have a lifelong impact on our lives which means we should always do our best to think of everything before we leave the scene of an accident. Providing you were not taken from the scene in an ambulance, here are the things you'll want to pay attention to or accomplish.
Take Inventory of Your Wellbeing – If you have been injured, seek medical treatment immediately. This means you may need to call 911 or get yourself to an ER following the accident if your injuries aren't life-threatening.
Call Authorities to the Scene – No matter what the circumstances are, it's always best to call law enforcement to the scene so they can document the accident. Before the officer leaves, review the accident report to ensure it is an accurate account of what you have explained.
Take Photographs – While you wait for the officer to conduct his onsite assessment, take photographs of everything. This includes your vehicle, the other vehicles involved, the damage inside and outside of the car, the roadway or intersection where the incident happened, any traffic lights or signs, and the businesses or homes located at the scene.
Collect Witness Information – Ask any witnesses if you can collect their information in the event you find yourself in a car accident lawsuit.
Alert Your Insurance Company – You can alert your insurance company/representative if you've been in an accident but be careful about what you say. If the damage is minimal and you have no injuries, then you have less to worry about, but regardless, give yourself a moment to recover. Injuries can take days to show up after an accident.
Contact a Florida Car Accident Law Firm – If you feel there has been negligence involved in your car accident, give David Graham Insurance Lawyers, P.A. a call so we can learn more about your case and how to help you move forward.
Top Tips of What "Not" to Do During Your Car Accident Claim Process
Don't Apologize For The Accident – Avoid apologizing until you understand everything that has happened. Apologizing is seen as admitting fault.
Don't Sign Anything From the Insurance Company(s) – If requested to sign waivers or settlements by an insurance company, seek the help of an attorney first.
Don't Ignore Your Medical Physician – Attend all your medical appointments and follow doctor's orders. Failing to do this can be detrimental to your car accident claim.
Don't Share Your Personal Details on Social Media – Insurance companies look for anything to disprove how injured you are. Stay off social media as many private investigators will dive into your accounts to see if you're lying about your case in some way.
Need help with your Florida car accident claim? The law offices of David Graham Insurance Lawyers, P.A. are some of the best car accident attorneys in Florida, and we are standing by to listen to your case and advise you the best way we know how. Give us a call or send us a message online so we can set up an appointment with you today.
For more information on Florida car accident law, click here.